July photo: unexpected encounter with an owl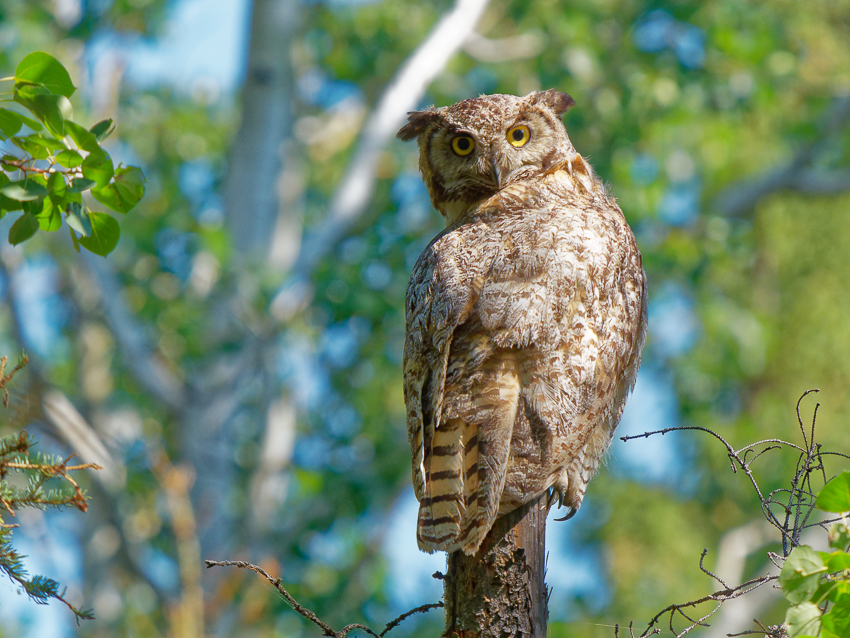 Sometimes we found certain species in unsuspecting places: we had stopped to eat at the entrance of a natural park in the Northwest Territories of Canada. While we were eating a sandwich, Yolanda approached the entrance of a hike road, not knowing that there was this owl perched on a branch just 2 meters high. The owl flew down the road, until it landed a few meters later on this trunk. Then we ran for our telephoto lenses and, with great care, we approached, until we could obtain this photograph.
Then we thought it was not so strange that there was this bird in that place: it is a place where people stop to eat and there are always small mammals that go to the remains of food, being an easy objective for this predatory bird. The strange thing is that he was perched so close to the picnic tables.
Camera Olympus OMD EM-1 m2. Lens Leica DG 100-400 mm /F4.0-6.3, at 400mm.  ISO 320, 1/250, f/8.0. Dual IS. Author: Juan Abal
June photo: butterfly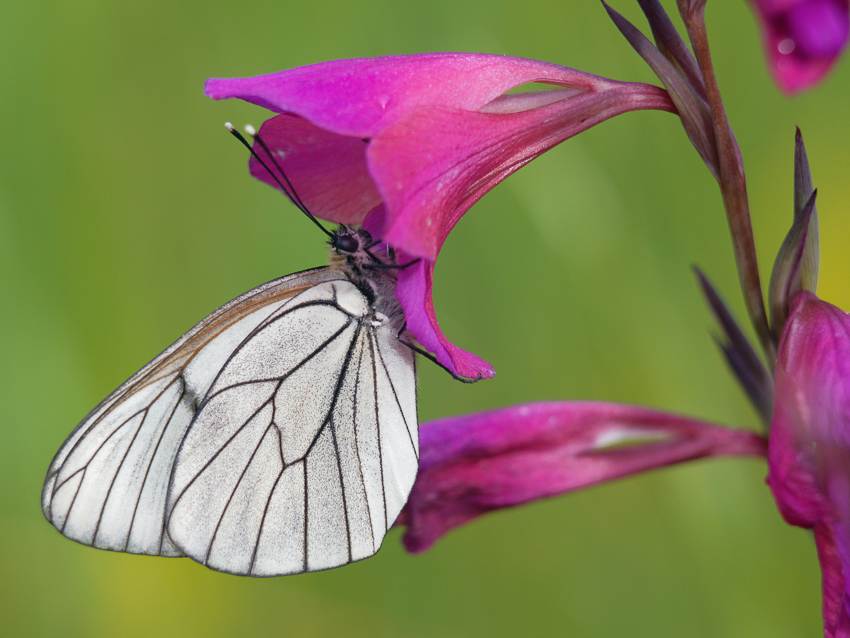 In spring the field is full of insects, and among them the butterflies are always the favorite for our photographs.
This time I was testing a bright telephoto lens, using a very open diaphragm to achieve an unfocused background. I had to take several photos until I got one that had the point of focus right where I wanted, because it was a bit windy and I was not using a tripod.
Camera Olympus OMD EM-1 m2. Lens Zuiko 150mm F2.0 + extension tube.  ISO 400, 1/640, f/4.0. Author: Juan Abal
May photo: peacock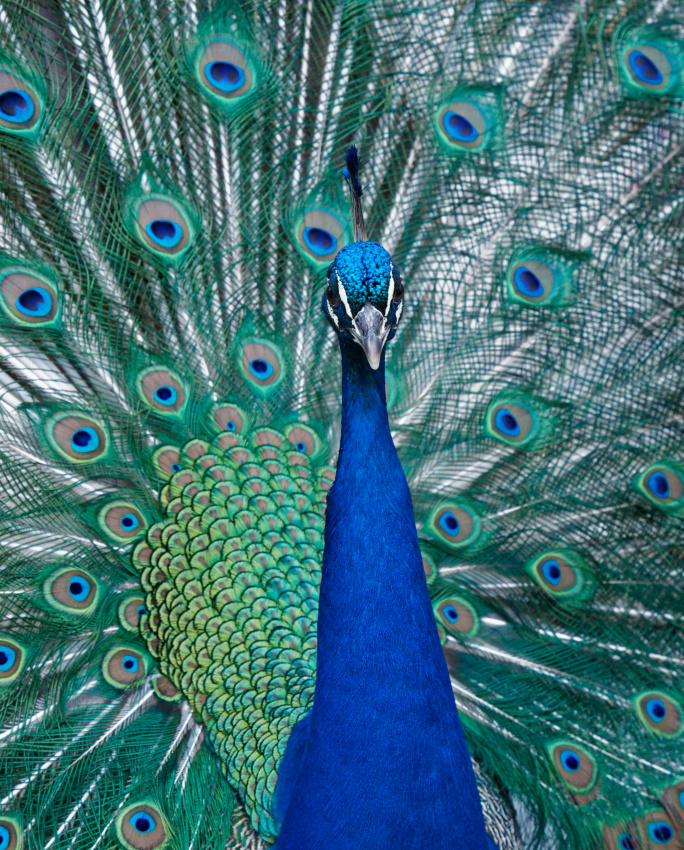 In the month of May the peacock males exhibit all their colors in the parks of Madrid. Sometimes it is difficult to photograph them because they are surrounded by people with their mobile phones, trying to get an image of those vivid colors.
In this case I used a telephoto lens to compress the image a little and to frame only a part of the copy.
Camera Olympus OMD EM-1.  Lens Zuiko 40-150mm F2.8 + MC 14. ISO 800, 1/400, f / 5.6. Author: Yolanda Moreno
April photo: landscape in the Sierra de Cuenca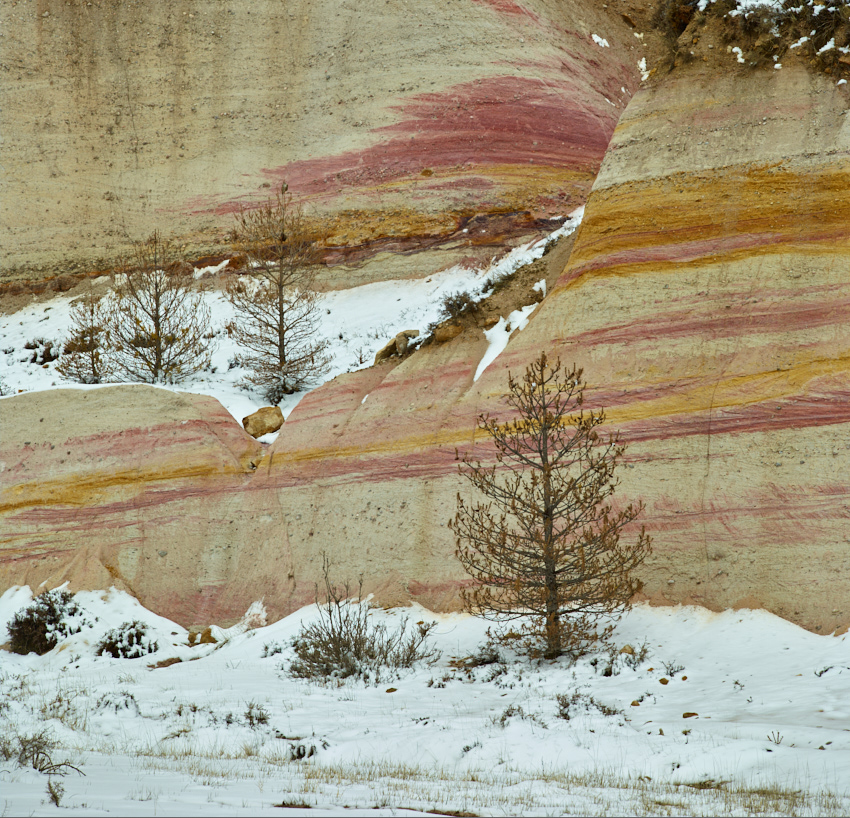 In the winter of 2018 the snow was very abundant in the Sierra de Cuenca, so we decided to go to explore those landscapes. We discovered a place, near a small town, where the erosion of the water had left layers of very bright colors, and as the weather was good, we stopped to take some pictures. In this case I used a long lens to compress the perspective and leave a simpler image.
Camera PhaseOne XF + IQ160. Lens Mamiya AF 200mm F/4. ISO 50, 1/180, f /11. Author: Juan Abal
March photo: sunrise in Andujar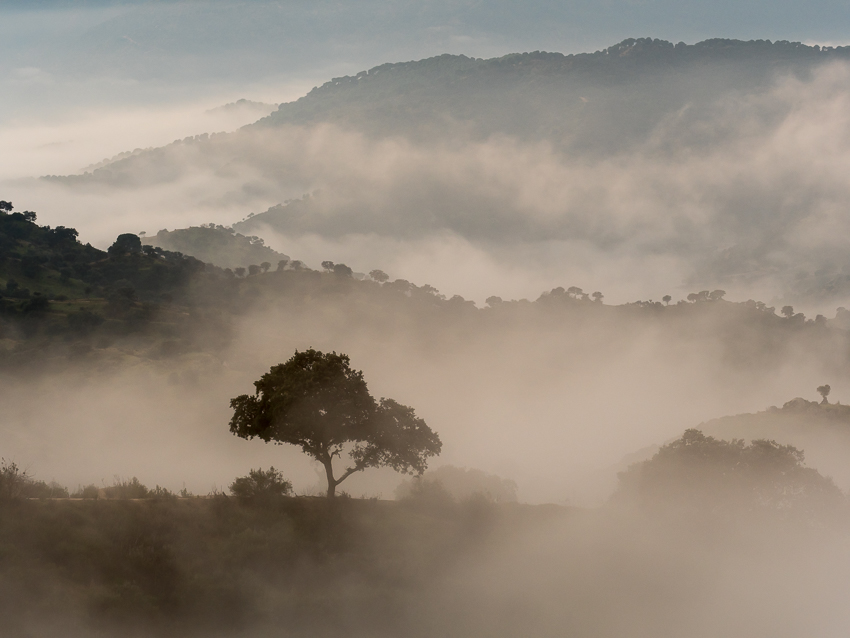 One winter day we got up before dawn and went to a place we had seen the previous afternoon, in the Sierra de Andujar, Andalusia, to try to take pictures of the sunrise, before going to look for lynxes. We were in a high place, from which we saw the fog in the valley.
As soon as the sun appeared above the mountains, the fog was rising, causing these dreamlike images. The fog moved very fast, and I had to shoot quickly, looking for a good composition, before the effect disappeared.
Camera Olympus E-M5 Mark II. Lens Olympus lens M.40-150mm F2.8. ISO 200, 1/8, f / 8. Author: Yolanda Moreno
February photo: waterfall with iced rocks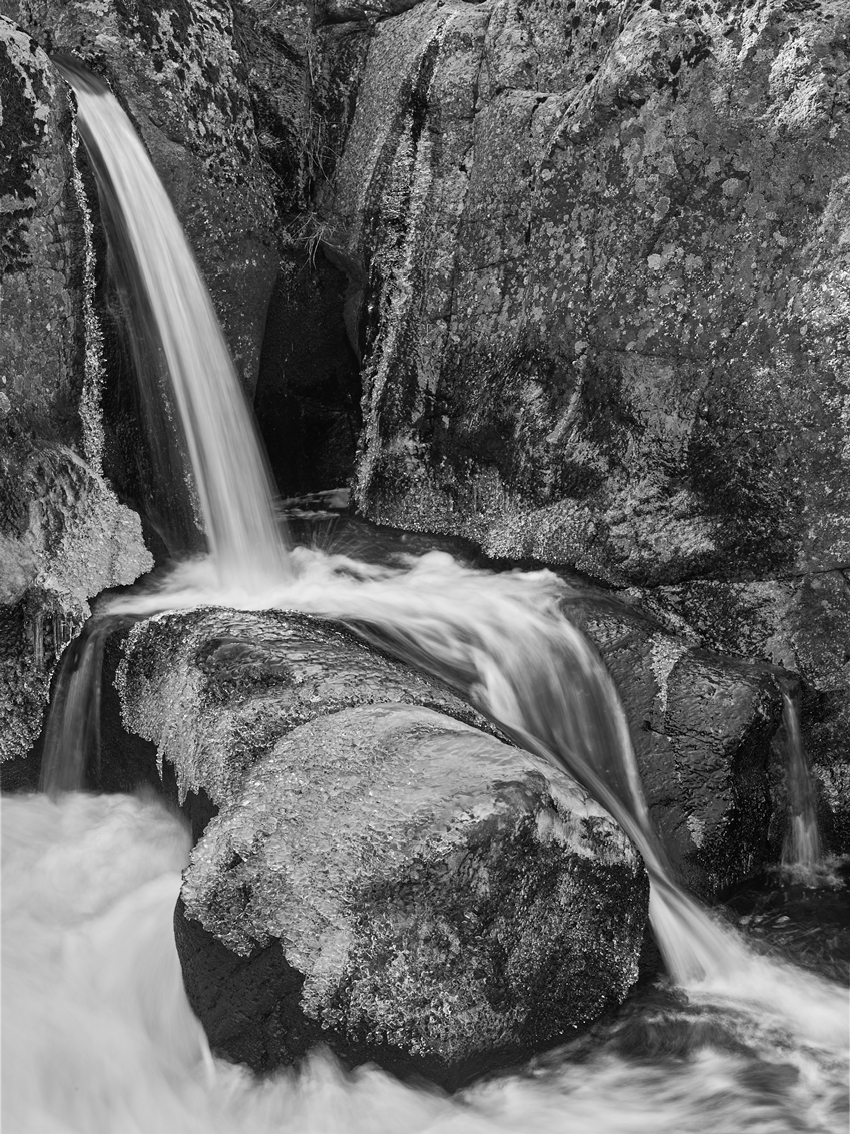 The rivers are always a endless source of images, so one day in February when  temperature was very low, we went to the Sierra de Guadarrama, Madrid, to try to capture some images of the river with ice. We found this waterfall where the rocks were covered with small frozen drops, forming textures of great beauty.
To capture all this detail I used a 60 Mpixs digital backup, with the sharpest lens I had. Then I turned the image to black and white with Capture One, applying a mask to the water to give it a little more light.
PhaseOne XF + IQ160 camera. Lens Schneider Kreuznach LS 80mm F2.8. ISO 150, 0.2 ", f / 11. Author: Juan F. Abal
January photo: minimalist landscape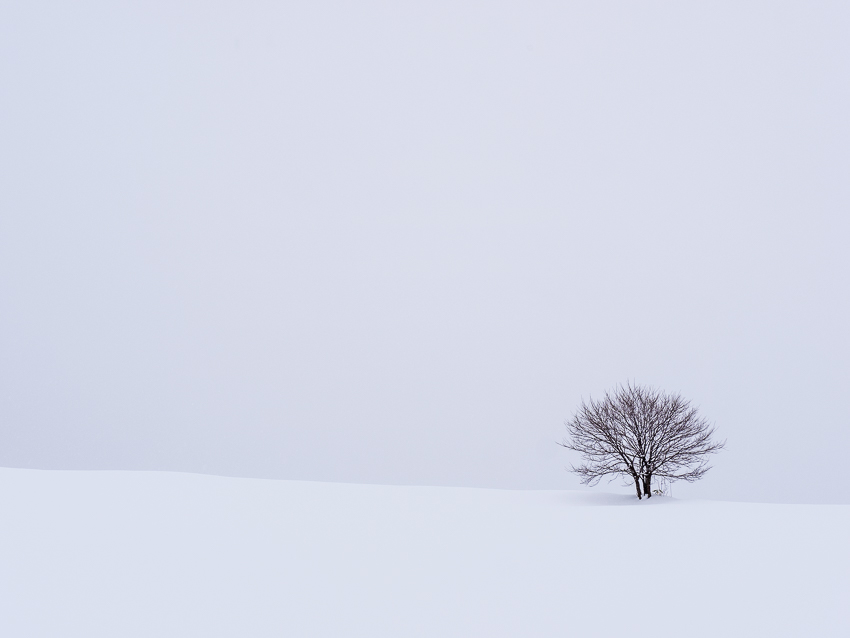 The island of Hokkaido, in the North of Japan, is an ideal place to take minimalist photographs in winter, since it is not difficult to find isolated trees in the snow-covered hills. If the day is also cloudy, we obtain these gray skies that produce an almost monochromatic image.
Camera Olympus OMD-EM1. Lens Olympus M-40-150mm F2.8. ISO 100, 1/160, f/8.0. Author: Yolanda Moreno